AWD vs. 4WD: What's the Difference?
What You Need to Know About All‑Wheel Drive and Four‑Wheel Drive
Shop Trucks +
Shop SUV's +
What Is All‑Wheel Drive?
As the name implies, all-wheel-drive systems powers all four wheels all of the time. Small crossovers or medium sized SUVs, such as a Subaru or a Honda CR‑V, are designed for normal road use with added handling benefits. Because the system does not require driver selection to drive all four wheels, an AWD system is ideal for slippery, snowy, and unpredictable driving conditions.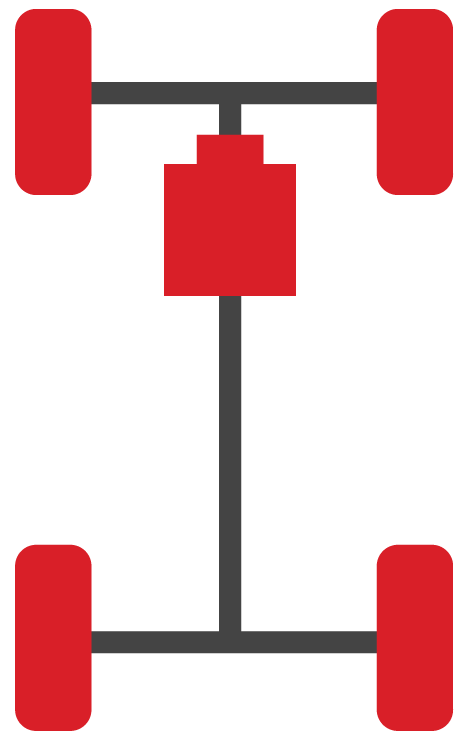 All‑Wheel‑Drive Pros and Cons
The best thing about AWD is that the driver doesn't have to make any decisions about engaging the system. AWD is available on a wide variety of vehicles, from compact sedans to all sizes of SUVs, giving you a broad range of choices. While AWD is able to work well in a variety of conditions, from rain to snow, it's generally considered a lesser choice for heavy snow, mud, and off-roading.
What Is Four‑Wheel Drive?
Typically when driving a vehicle equipped with on-demand 4WD, you can select the drive mode yourself. With this type of system, your differentials lock together so that wheels spin at the same rate in a 50-50 split of power distribution. Additionally, some trucks and SUVs have the added option to select 4WD Low or 4WD High gears, for added power and traction.
Four‑Wheel‑Drive Pros and Cons
4WD is the best choice if you want to have total control of your vehicles driving characteristics. 4WD is typically found in large SUVs and trucks, such as the Ford F-150. 4WD is best in heavy snow because of the added benefit of a 4WD Low or 4WD High settings. If you're looking for off-road capability, ruggedness and maximum pulling power, 4WD is well-suited for play in difficult terrain. On the other-hand, if you don't pay attention to the driving surfaces, you run the risk of harming your vehicle.