Car of the Week : Subaru WRX and WRX STi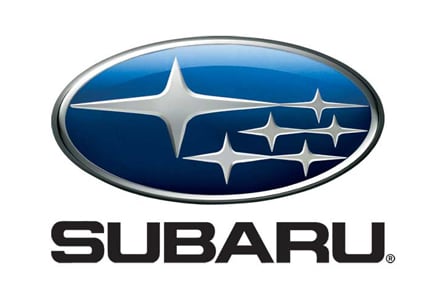 If you've ever played a racing video game, searched Subaru on YouTube, or been to a Subaru Showroom, it's likely you've seen their road-ready rally car; the WRX & WRX STi. The Japanese auto maker Subaru has been independent since the beginning, and has become a leader in build quality and sales around the world. The WRX and STi are most recognizable by the sound of their turbocharged engines that will put you back in your seat, and put a smile on your face.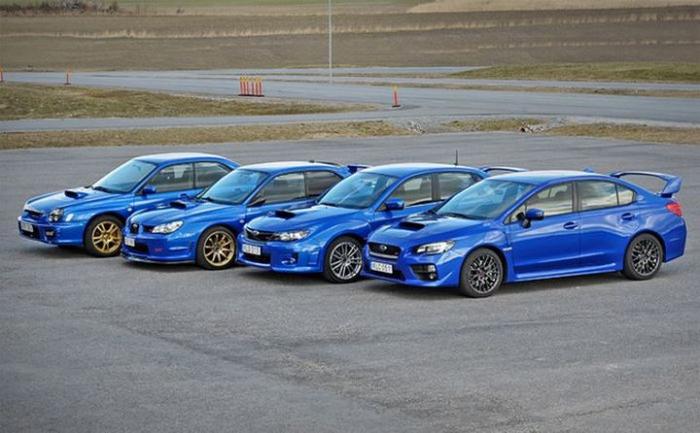 Above :Basic STi body style progression from 2002 - 2015
Stemming from the first Subaru Impreza Sedan models, the Impreza WRXs (
W
orld
R
ally e
X
periment) were made famous through the World Rally Circuit all around the planet. Before they hit the US Auto Market, they were offered in Japan and parts of Europe, but luckily that changed. 
In 2001, Subaru of America announced that the WRX would be available for the 2002 Model-Year (Offered in both a Sedan, or Wagon) and people were very excited. After the success of the WRX in the US, the Japanese-Exclusive STi began production for the American Market in time for the 2004 model year. 
Once these vehicles were introduced, in the US, it was the start of something incredible. 
   What makes these cars so special? What makes them tick?
Subaru produces a motor with horizontally-opposed cylinders. What does this mean? Instead of the pistons firing up and down, or even at a slight angle up and down, they fire side to side. This motor was coined the "Boxer" motor, because of the motion of the pistons. The WRX and STi are based on a four cylinder engine platform, shown below.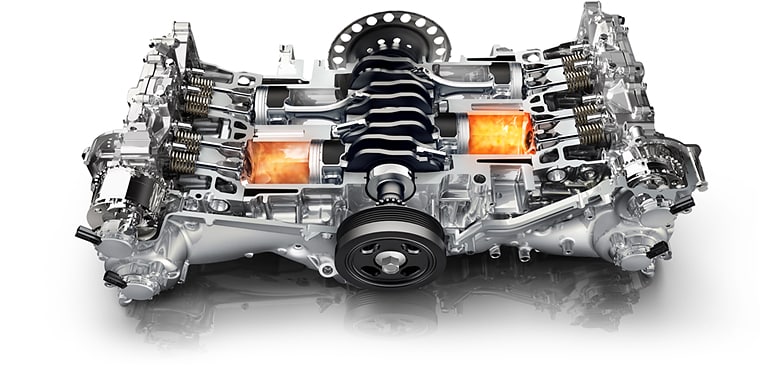 This motor design was first patented by German Engineer Karl Benz in 1896. (Yes, that "Benz) Since then it was adopted by many auto and motorcycle makers, even some planes and buses used the design. This motor has an extremely smooth operation, and exerts less weight on the crankshaft which translates to less power lost by the time the power gets to the wheels. Also, its shape creates a low center of gravity which makes the vehicle handle better. Though a good powerplant, it is sometimes difficult to work on because of tight spacing in some applications. Also, instead of one head and valve train, boxer motors have two, making it more complex in general. Overall, a well maintained boxer motor in any application is a reliable one.
"The Rumble"
Subaru's boxer motors are known for "The Rumble", especially distinct when an aftermarket exhaust system is applied, or the stock system is modified. The reason for this rumble is Un-Equal Length (UEL) Headers. (Other vehicles' headers are equal length [EL] ) The result of having un-equal length headers is space in between exhaust gasses which creates a very distinct sound. UEL have the same length piping on cylinders 1 & 3, and a different length on 2 & 4 which creates this effect. 
Click the link below for a great explanation thanks to Engineering Explained.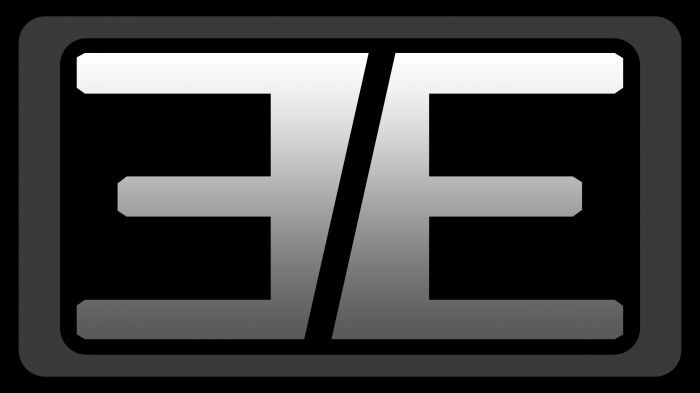 Subaru has used the Boxer Motor design since 1966 when it was applied to the
Subaru 1000
. Since then, it has been applied to essentially every vehicle produced since then in a 4 or 6 cylinder application. The 6 cylinder engines are naturally aspirated (no turbocharger or supercharger), and in some vehicles like the WRX, and Legacy GT, it was offered in a 4 cylinder layout with a turbocharger.
The main focus of this engine series as a whole has been the
EJ
 series. In the WRX and STi, it was turbocharged, offered in a 2.0 Liter, and 2.5 liter respectively. The 2.0 liter engine with a turbocharger in the 2004 WRX made 227 horsepower and 217 ft-lbs of torque, linked to an automatic or 5 speed manual transmission. The 2004 STi, outfitted with the larger 2.5 liter engine and turbocharger made 300 horsepower and 300 ft-lbs of torque, linked to a 6 speed manual transmission ONLY. In the 2006 Model year, both vehicles were outfitted with a 2.5 liter engine. While the STi's power remained the same thanks to different ECU tuning and stronger internals; on the other hand the WRXs saw a power increase to 230 horsepower and 235 ft-lbs of torque. Now in 2016, the WRX engine has been updated to a
Direct Injection Boxer Motor
, coded the FA20DIT. (FA - 2 liter direct injection turbocharged) Though the motor is still horizontally opposed, it increased horsepower, torque, and fuel economy. While most people do not purchase a WRX for its ability to chug high-octane gasoline, now people see an advantage to purchasing the WRX over the STi. The numbers increased to 268 horsepower, and 258 ft-lbs of torque, while achieving an EPA Combined Estimated Average 24 miles per gallon, a departure from the older series in 2014 that only achieved 21 combined. Some users report more than 30 mpg combined if correctly operated. Subaru also made a more rugged manual transmission, bumping it up to 6 speeds, though still not
as
 strong as the STi's gearbox. The introduction of this new motor was the biggest step forward for Subaru's WRX since the original turbocharged motors were introduced in 1992. The 2015+ STi however, kept the EJ25 with a turbocharger (2.5 Liter) motor which has been tapped up to 305 Horsepower and 290 ft-lbs of torque. The real difference came from Subaru's new, more rugged chassis that improved overall ride quality and interior space, but more importantly handling.
Below From Left to Right : 2015 WRX STi in World Rally Blue Pearl; 1992 Impreza WRX STi (Australian Production Model)
(CarAdvice.com.au)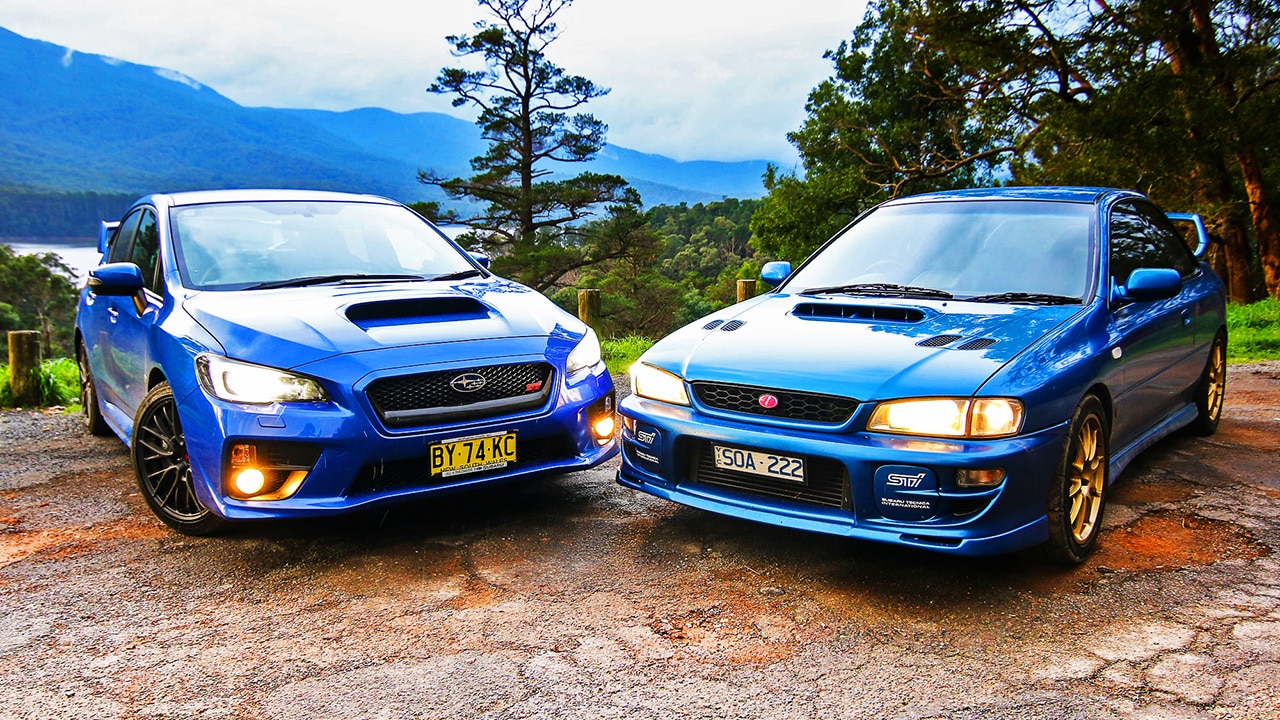 Other than powertrain differences, the WRX and STi saw differences between the exterior, the STi receiving flared panels and a large wing-spoiler, while the WRX was more conservative and has a trunk-wing and a more narrow body line. The STi was outfitted in BBS wheels almost every year from 2004 until today, with minor exception when it was offered as an option, and the WRX model received more conservative wheels. Many would say both interiors were lacking other than the seats as they were somewhat comfortable for a sport sedan, and held you in place well, but the STi interior has always been better looking, and sported Subaru's famous blue color on the carpet, headliner and other interior features for years until it was changed to black with red trim. 
Below : 2004/2005 STi Interior, 2015+ STi Interior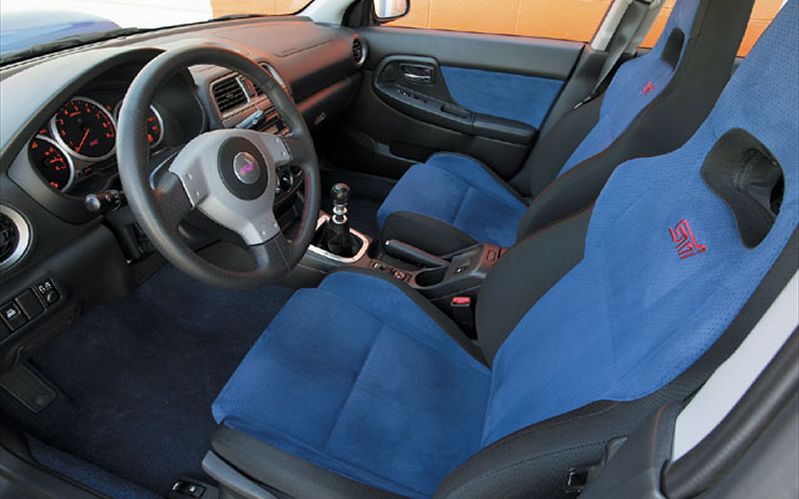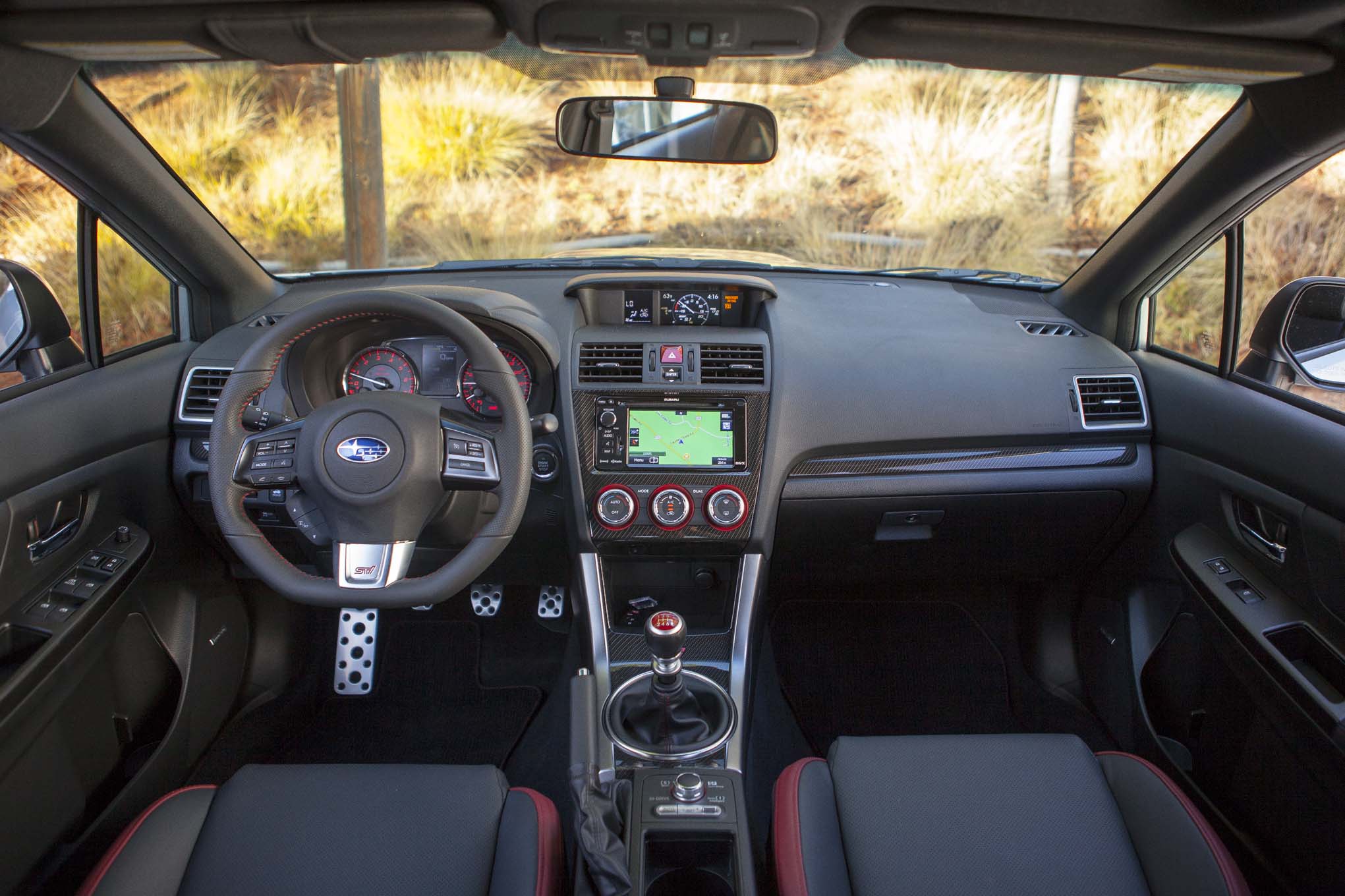 The turbocharger system in all WRX and STi models were cooled by a Top Mount Intercooler, or TMIC,  through air cooling from the very noticeable, and 100% functional hood scoop. This is one of the only fully functional hood scoops on any vehicle on the road.
Below: 2015 WRX shown in Lightning Red 
(Car & Driver)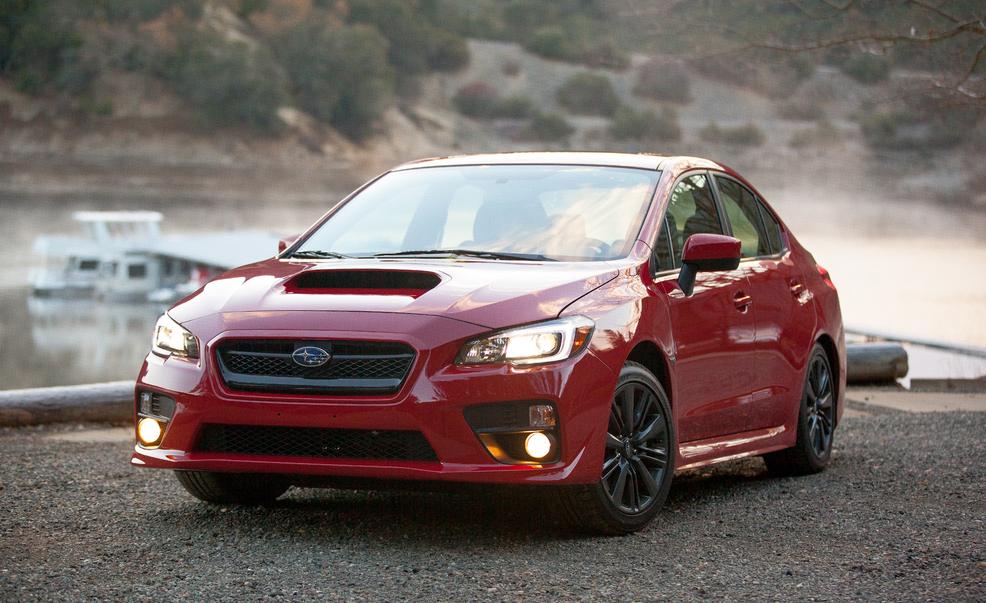 The power made in both vehicles was respectable for the road - but the more important fact? They are All Wheel Drive. 
Subaru has been making All Wheel Drive vehicles as long as many can remember, 1972 to be exact. Their system differed from others because it was
Symmetrical
. This means that power was distributed evenly to the front, and rear of the vehicle. Many other systems like Audi's
Quattro
 was geared more heavily towards the rear of the vehicle. This all wheel drive system propelled now legendary drivers like Colin McRae, Travis Pastrana, and Ken Block to victories, championships, and some pretty cool videos.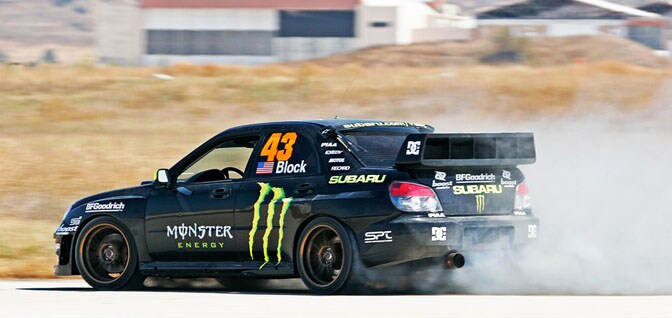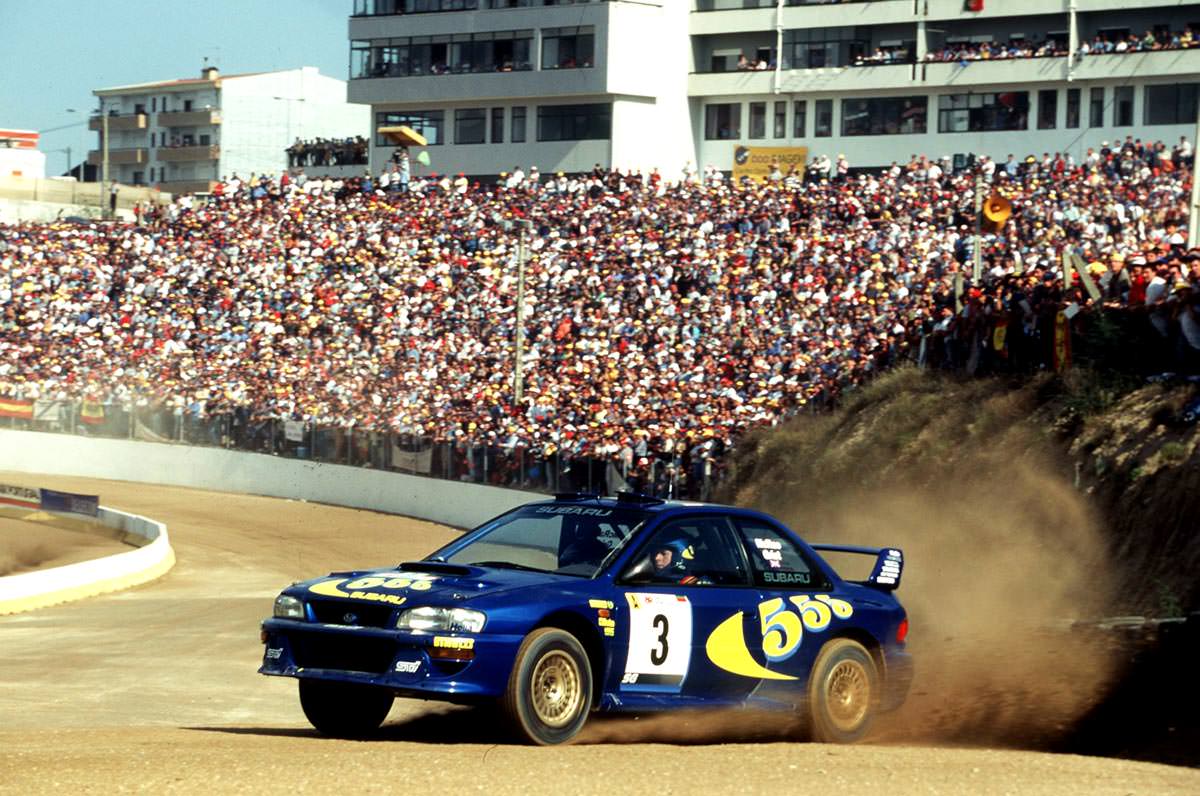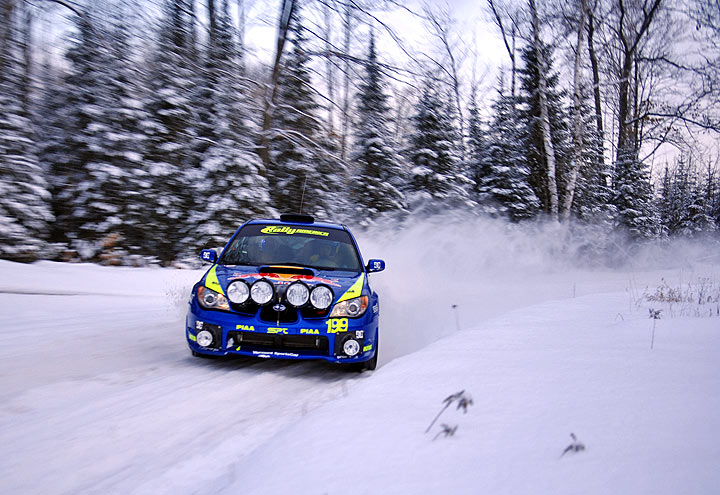 Above: Ken Block's Gymkhana Drift Video (YouTube)
Colin McRae at a Rally Race in front of a packed grandstand (Racing Legends : Colin McRae)
Travis Pastrana cutting through the snow in SnoDrift Rally in Vermont (Vermont Rally Racing)
    Arguably the most desirable generation, the 2004 and 2005 model years of the WRX and WRX STi were the second generation of the vehicle - the first generation of the STi introduced to the United States. Now, in 2016, the series has gone through a complete facelift, including improvements every year, most recently a new platform launched in 2015. These vehicles were all known by the Subaru Impreza WRX (or Subaru Impreza WRX STi if applicable), which is quite a mouthful. Since 2015, Subaru dropped the Impreza name, and is now the WRX series. Subaru will continue to make these vehicles and popularity and sales increase every year.
Below:
Modified WRX STi Hatchback (StanceNation)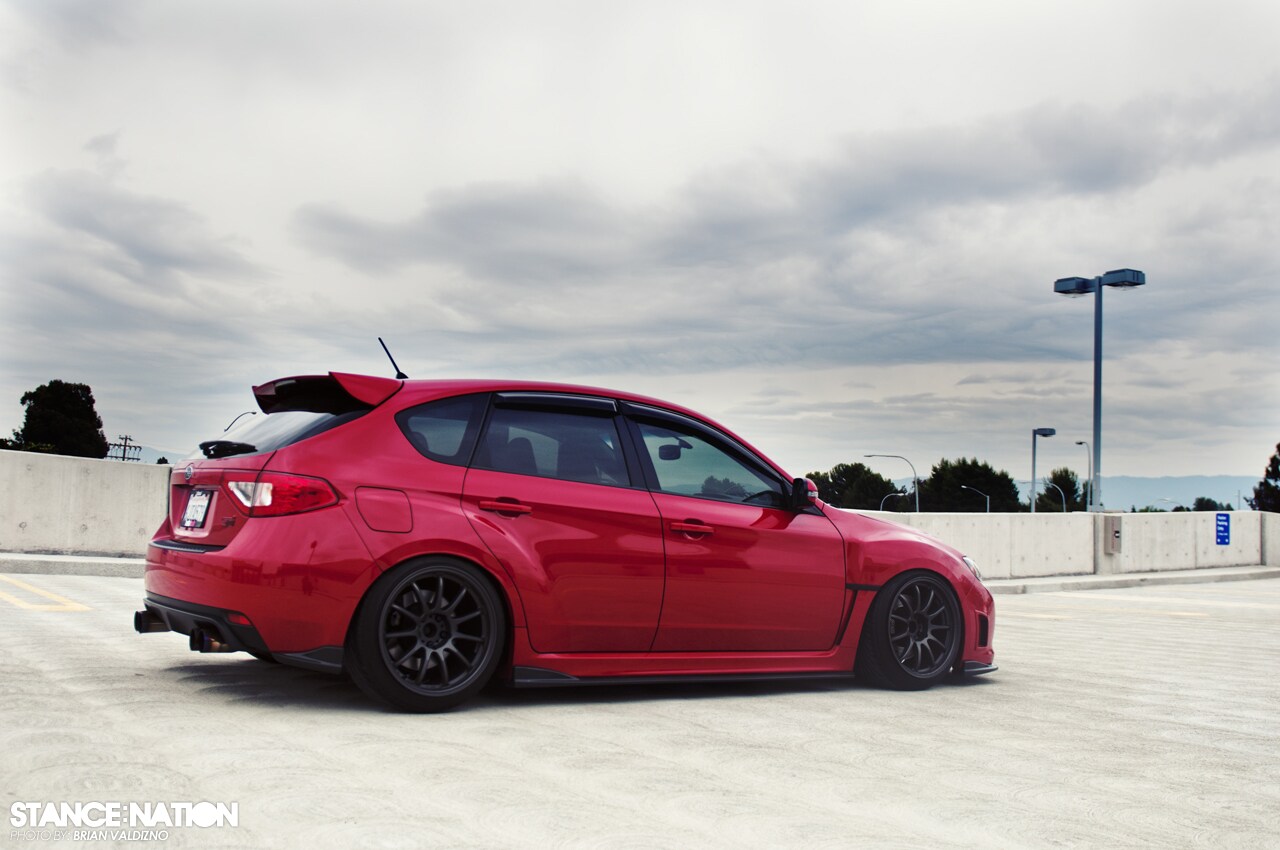 In closing, whichever model you choose, you will have a lot of fun - on, and off the road if you choose. The amount of aftermarket parts available and modifications done to these vehicle are staggering. From airbag suspension, to 1000+ horsepower applications, not many of these vehicles stay factory outfitted. The community that drives these vehicles are known to be friendly and will wave at each other on the road, hold meets, and will lend a helping hand in the garage just about anytime. The best example of this is Wicked Big Meet, held every year by Subaru of New England with many sponsors. Every year thousands of people flock to this event to see different modified cars, race in AutoCross, see who has the loudest modified exhaust, and even see some production models only offered in Japan. These cars are taking over the tuner market, and you can definitely see why.
    Click the picture of the STi below to check out OUR Subaru WRX STi, 1 of 1000 production model from 2015-  The Launch Edition STi. If you have any questions or comments, please email rob@modernautosales.
Thank you for reading!
Welcome to Modern Auto!

My name is Rob, and I help people buy cars.

    Here at Modern Auto Sales, we are committed to a
painless
purchasing process, as well as an enjoyable ownership experience.
       Whether you have
A+
Credit, or don't know the difference between
Experian
and
Equifax
, I can show you the best avenue for success. Everyone here is a specialist in the own right. From stripping down a Jeep Wrangler, to Financing, and even setting up Auto Insurance for the first time.

    This page will include:

How to establish, build, and repair your credit

First-Time-Buyer Programs

Credit Union Information

Car of the week

Keith & Kevin's Financial Tip of the Week


Promotions

My take on different vehicles in stock

Car News, pictures and videos

Much more!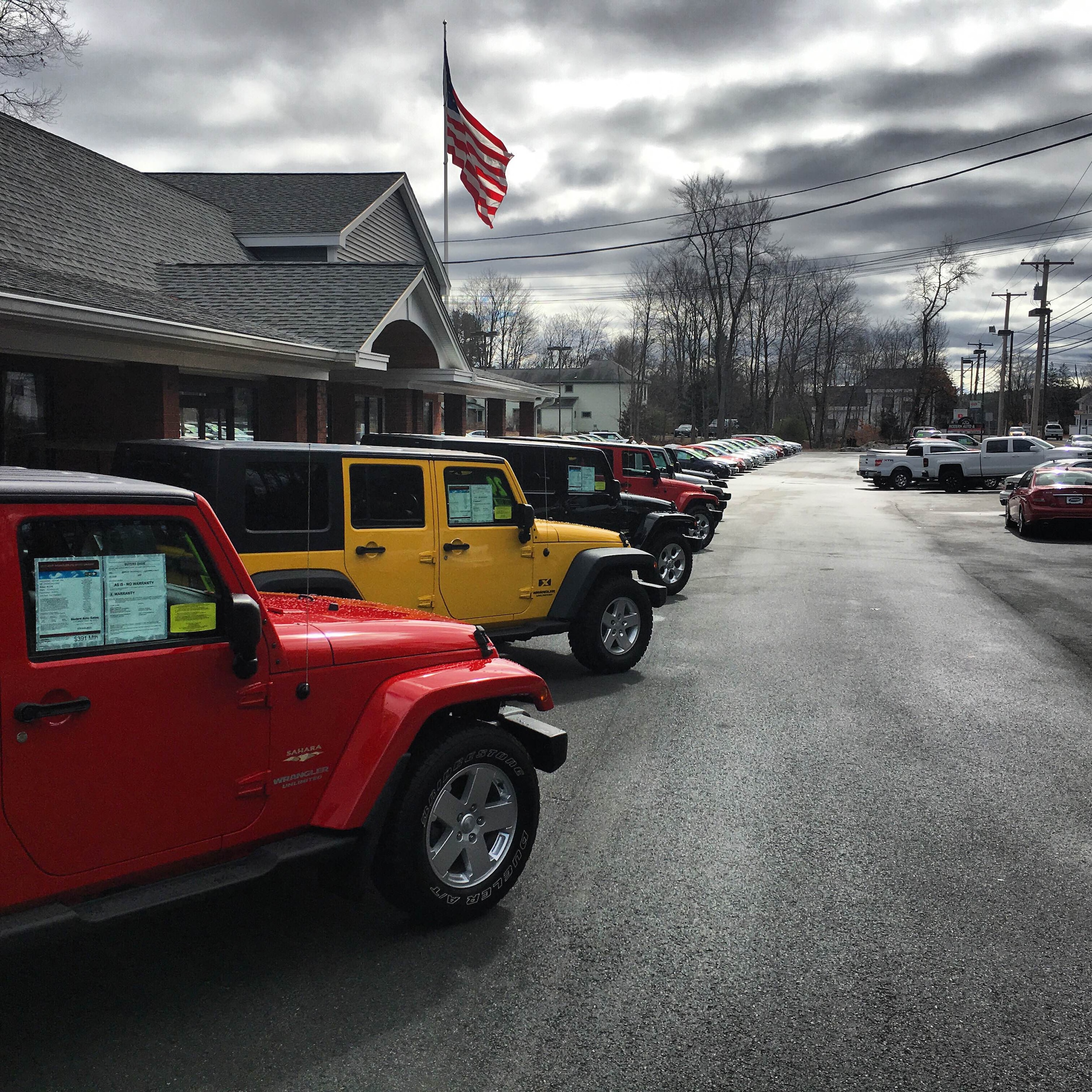 Hours
Monday

9:00 AM - 7:00 PM

Tuesday

9:00 AM - 7:00 PM

Wednesday

9:00 AM - 7:00 PM

Thursday

9:00 AM - 7:00 PM

Friday

9:00 AM - 6:00 PM

Saturday

9:00 AM - 5:00 PM

Sunday

10:00 AM - 5:00 PM